Patient safety and well-being is the foremost criteria for Mepro. Our Quality is wound into this philosophy and runs as a culture of the company. Mepro right from its inception invested heavily into 3 governing principles which control Quality:

Men

Machine

Method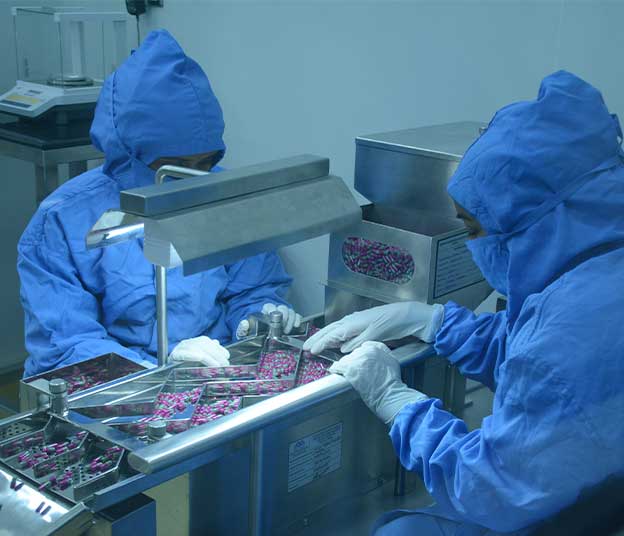 To achieve this, Mepro has always succeeded in hiring and retaining like-minded diligent staff which puts Quality as the cornerstone of the business. Adaptability, eagerness to improve, and subject matter expertise of our skilled staff ensures Quality is embedded into the entire life cycle of a product.
Understanding in today's hi-tech environment, automation plays a key role in maintaining Quality. Hence we have gone one step ahead to ensure the machines and technology installed at the plants are designed to run the product rather the product being designed to run as per machine. This is exemplified as the 'Quality by Design' concept which we integrate into every plant right from its inception. All of our technology, systems, machines are synchronised to the behaviour of the product which gives consistency in its quality.
Having robust Methods and Processes comes from staying abreast with the ever changing regulatory regime in the Pharmaceutical Industry. Strictly adhering to cGMP guidelines, optimising and validating processes and achieving near zero deviations make sure quality, purity, safety and efficacy is always preserved in the product. Our track record in regulatory compliances is showcased by the fact that we have never failed at any inspections of EU GMP, UK MHRA, UNICEF and other regulatory agencies. In addition to this we have successfully faced more than 300 client audits, a testimony to our continuous inclination on quality.

Our unwavering commitment to quality goes beyond ourselves. We insist that our business partners comply with national and international regulatory and business standards which are in alignment with those of our own. Finally a review of Quality focuses on review of failures, rejections, market complaints, deviations, non-compliances, product stability, various Corrective and Preventive actions planned - however in all this cost never becomes a criteria to achieve quality.

We at Mepro believe Enterprises that exemplify leadership in quality not only deliver quality products and services, but also effectively set industry benchmarks and redefine standards for those who share their mission.